Click to join Guy Aitchison's Tattoo Education Mailing List!
Welcome to Tattoo Education.com
We have a variety of educational and reference books and DVDs for tattooers.
Tattoo Education News
New Ask Guy Critique Column, Plus A Few Great last-Minute Gifts!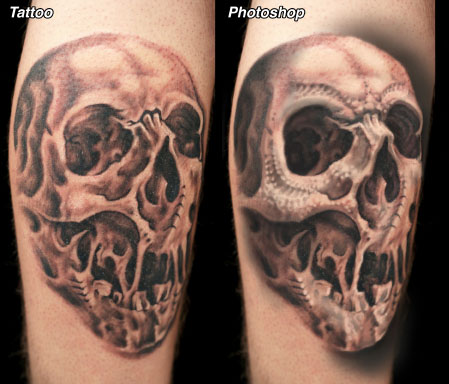 So another edition of my Ask Guy column has hit the newsstands, this time another one centered around a critique of another artist's work. Art critiques have been a standard part of artists' educations since time immemorial, and are something that you'll encounter at art school quite frequently. Many of us in the tattoo industry haven't run across this practice very much, though, which can make it tricky to get honest feedback from others in the profession. I've been enjoying the critique format of the Ask Guy column and have had some very positive feedback. You can see the latest edition in Tattoo Magazine #305, which is available now and also includes a fun interview that I did with artist Adrian Dominic, plus a lot of other fun stuff. You can also check out the column in the Ask Guy archive here at www.tattooeducation.com.
---
Some Great Affordable Holiday Gift Ideas from Tattoo Education!
Happy Holidays from Tattoo Education!

So I figured we'd give you all a break and not clutter your spam-box during the whole Black Friday/ Cyber Monday rush. But now that that's over you probably still have some gifts to pick up, most likely the kind where you are not sure what to get. So here are some great items that would be welcome gifts for any art fan or artist, and would no doubt get passed around the room a lot the day they are opened.
Let's start with Time: Tattoo Art Today, which is a great softcover gallery catalog of groundbreaking paintings and mixed media works by some of the best-established artists working in the tattoo field today. It's a gorgeous layout of intriguing and inspiring art based on the subject of Time, which the artists have addressed in countless novel ways. I was honored to be invited to be part of this production and have my piece showed alongside these great masterworks. It's a limited availability item that will not be reprinted when it's gone.
Then there is the Inspiration series by Out Of Step Books, including Eight Arms of Inspiration, Antennae of Inspiration, and the most recent, Feathers of Inspiration. Each of these books is a massive collection of many hundreds of pieces in various media by an encyclopedic list of artists, some well-known and others still waiting to be discovered. Feathers of Inspiration became such a large project that they chose to make it into two separate volumes that come as a set. Each of these anthologies will keep the attention of anyone who appreciates art, and offers something new each and every time they are taken down from the shelf.
There are a couple small sized stocking-stuffer anthology books on offer as well, including the Proton Press project Scratch Art, and Durb Morrison's epic but tiny book, Pint Size Paintings. Each of these books features hundreds of small works by a wide variety of artists in a broad spectrum of styles and are fun, entertaining and sometimes surprising collections of art. All of these books are ideal gifts, and come in a variety of prices. If you are looking for gift inspiration, look no further! We have these items plus a lot more at the Tattoo Education online store. All US orders received by December 16 are guaranteed to arrive in time for the holidays.
---
Upcoming Tattoo Education Events
No Upcoming Events