Click to join Guy Aitchison's Tattoo Education Mailing List!
Welcome to Tattoo Education.com
We have a variety of educational and reference books and DVDs for tattooers.
Tattoo Education News
Coming in April: Reinventing The Tattoo Immersive Webinar!
For a decade and a half now I've been perfecting my Reinventing The Tattoo curriculum, which teaches some of the fundamentals of artistic design in a way that can be applied toward making your tattoo work stronger, more dynamic, and more unique. It's an educational program that has been attended by many artists who are now among the industry's top artists and educators. So I'm psyched to offer this first installment of Reinventing The Tattoo in interactive webinar format. That means that you can attend it online from anywhere in the world but still participate in the critiques, exercises and discussion. I'm offering a limit of 30 tickets so that everyone's work gets enough time on-screen, where I not only critique it but also use Photoshop to demonstrate ways of improving it. It can also be attended in person at a hotel near us in Marion, Illinois, but many webinar participants have found that the closeup, high definition experience they get on their computers is almost better than being there in person.
It starts on April 8, where I'll begin by going over the Reinventing fundamentals: Flow and fit, positive/negative relationships, contrast, priority and reserve, lines and edges, depth, and lighting effects. We follow that by doing an on-screen critique of each participant's work, applying the concepts that were demonstrated at the beginning of the day. At the end of the session I'll be handing out exercises for everyone to work on that night. Then, on April 9 we'll go over everyone's exercises so we can see how all the important fundamentals have been applied, and then follow up with a group of closeup video clips that demonstrate my latest understandings about technique. The Reinventing The Tattoo webinar is both immersive and interactive; wherever you live you can a part of this concentrated learning experience. Tickets are available now at our online store!
---
Coming up in April: Guy Aitchison Seminar at the Hell City Tattoo Fest!
With the tattoo art form spreading into every conceivable artistic style, it's important to take a step back every now and then and ask: What does this need to succeed as a tattoo? The question of longevity is the obvious issue, but the larger underlying importance of giving your work strength and clarity is not just about durability across time, but readability across the room.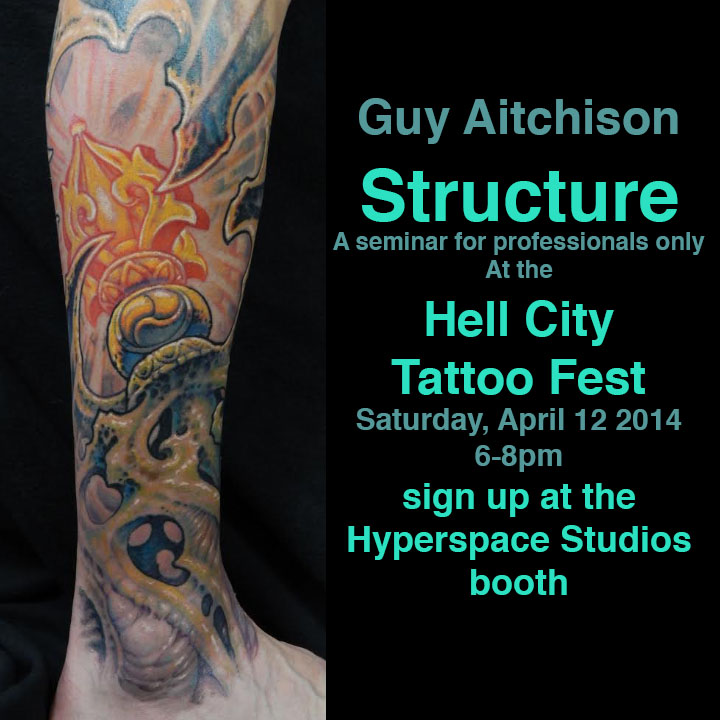 In Guy Aitchison's new seminar, Structure, he demonstrates ways of strengthening your work, both in design and execution. It starts with a well balanced composition, with good flow and fit and strategic use of dark and light, which is then applied to skin using a variety of different ways, some which are shown in closeup video clips. Structure reflects Guy's most recent understandings of making your work strong and dynamic... if you're attending the Hell City Tattoo Fest this coming April 11-13, be sure to take advantage of this opportunity! It's happening in the prime slot on Saturday evening from 6-8pm in the Hell City Seminar Room. You can sign up at the Hyperspace Studios booth on the convention floor, or prepay at the Tattoo Education online store.
---
Upcoming Tattoo Education Events
No Upcoming Events