Click to join Guy Aitchison's Tattoo Education Mailing List!
Welcome to Tattoo Education.com
We have a variety of educational and reference books and DVDs for tattooers.
Tattoo Education News
Finally Available: Guy Aitchison's Technique DVD
For a decade and a half now I've been perfecting my Reinventing The Tattoo curriculum, which teaches some of the fundamentals of artistic design in a way that can be applied toward making your tattoo work stronger, more dynamic, and more unique. It aims to balance understanding of artistic essentials with cutting-edge technical knowledge to give students a broad base of understanding toward being better artists across the board.
I'd like to announce the release of the latest installment in the Reinventing series, Technique. It's a four disk set that shows you closeup footage of the machine in action as I work through five different projects, presented in a concentrated format. The first two disks are a special edition cut of my Guy's Bag Of Tricks webinar, showing a project being done from start to finish as I answer a variety of questions from the audience. The other two disks, Tightening 1 and 2, go into detail about finishing techniques, showing four projects up close, with a voiceover describing every move in detail as I demonstrate line building, detailing, smoothing and other development.

This four disk set is about as technical as it gets. It's a natural follow-up from the material I teach in the original Reinventing The Tattoo book and DVD set, but is also made to serve as a stand-alone educational experience whether you've read the original book or not. It's intended for professional tattooists only, or apprentices working under the guidance of a professional. Available now at our online store!
Thanks, and we'll be in touch soon!
---
The Latest Ask Guy Column: What About My Sore, Tired Back?
Over the course of 25 years of tattooing I've encountered my physical limits a few times; I've had my back lock up on me, along with some pretty frightening hand and wrist issues that I could only resolve through making lifestyle changes, which fortunately seems to have resolved the problem. This is an issue that many tattooists face at one point or another, sitting for long hours day after day across the years in less-than-ideal body positions... eventually it all catches up with you.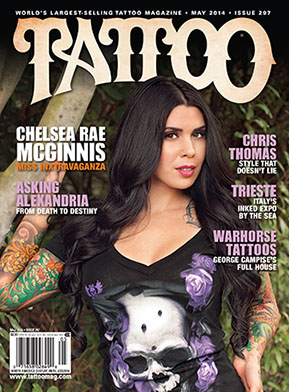 I've always believed that surgery and that kind of invasive therapy can often be avoided by being more conscious of how you work and by making the right changes where needed. I still work long hours sometimes but have found other ways of pacing myself, and hope to be tattooing still another 25 years from now. In this month's Ask Guy column, now available on newsstands in Tattoo Magazine #297, I go into some detail about workstation adjustments and stretches that are specific to relieving back pain, including a few illustrations. I hope you all find it helpful... and I invite you to submit your own toughest tattoo related questions at my Ask Guy contact link. You can read past editions of the column here at the Tattoo Education Ask Guy archive.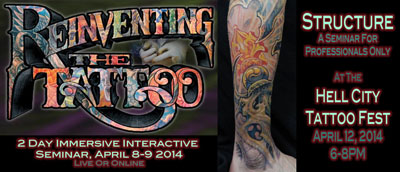 I'd also like to remind you of my two upcoming seminars- Reinventing The Tattoo, which will be offered next week on April 8 and 9, and can be attended either via online, or in person here in southern Illinois. It's an immersive, intensive workshop meant to focus on the fundamentals of good tattoo design and the techniques for making it happen on skin. Then, on April 12, I'm having another seminar, Structure, at the Hell City Tattoo Fest. A combination ticket is available for anyone wanting to participate in both. The Reinventing workshop is limited to 30 tickets which are almost gone- you can purchase tickets and find more information in our online store.
Thanks, and I'll be in touch soon!
---
Upcoming Tattoo Education Events
No Upcoming Events