Click to join Guy Aitchison's Tattoo Education Mailing List!
Welcome to Tattoo Education.com
We have a variety of educational and reference books and DVDs for tattooers.
Tattoo Education News
Nick Baxter Book Available In Electronic Format!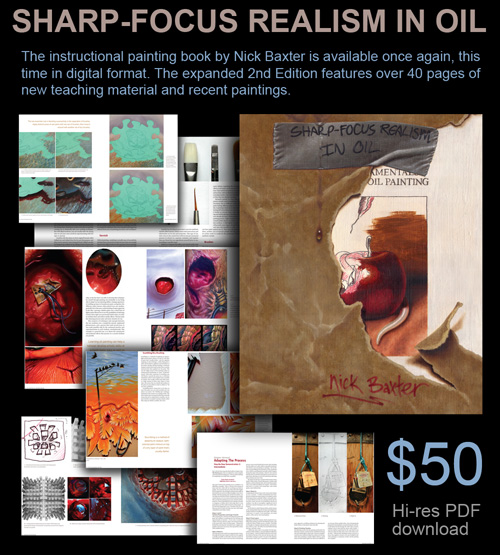 Since our last copies of Nick Baxter's acclaimed Painting book, Sharp-Focus Realism In Oils, sold out we've had countless requests for it... which is why we are so glad that Nick had the chance to sit down and do a few crucial updates on the book, then release it in an electronic format that you can read on your computer, tablet or phone. Sharp-Focus Realism In Oil is not only a comprehensive, richly illustrated learning aid, but also a beautiful art book loaded with Nick's intense, hyperreal visions. It's the first e-book we are offering at the TattooEducation online store... no doubt the first of many, as the e-book format catches on.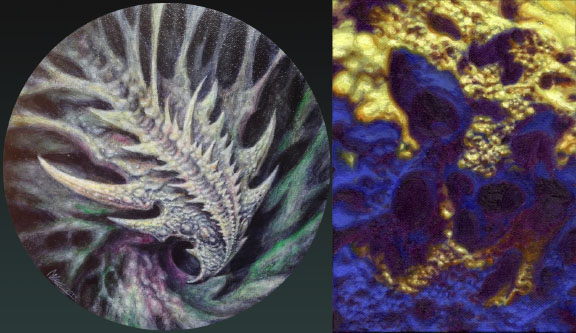 Speaking of painting, I wanted to mention that I have two original paintings listed at eBay right now. One of them is a small untitled abstract piece from my book Organica. It's signed and framed in a deep box which can be hung on a wall or placed on a shelf. The other is a recent abstract acrylic circular canvas, part of a series I'm currently working on. Either would make a great focal point in your home or your tattoo work station... the Organica listing ends tomorrow, and the circular painting just a couple days later.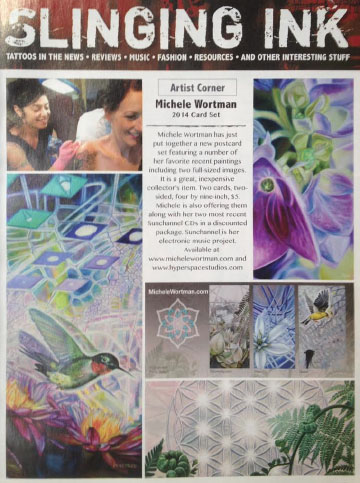 Last but not least, Michele was given a nice single page spread in the current issue of Tattoo Magazine, issue #301. It features her new collector's card set and shows some of her recent works on canvas. As always, thanks to Tattoo Magazine for everything they do.
Thanks, and we'll be in touch soon!
---
Abbott/Aitchison: Evolution
A few days ago you may have seen the newsletter we sent out announcing the addition of Russ Abbott's educational courses to our On-Demand catalog, including his classic Iron Clad: Tattoos Built To Last, along with his new course on color theory, The Tattooist's Palette. These are both top-quality professionals-only tutorials that demonstrate the foundation of Russ's solid, vibrant working technique. To celebrate the new courses we contacted Russ for a quick interview, which you can see at his Tattoo Education Artist's Profile, including some of his jaw-dropping new work.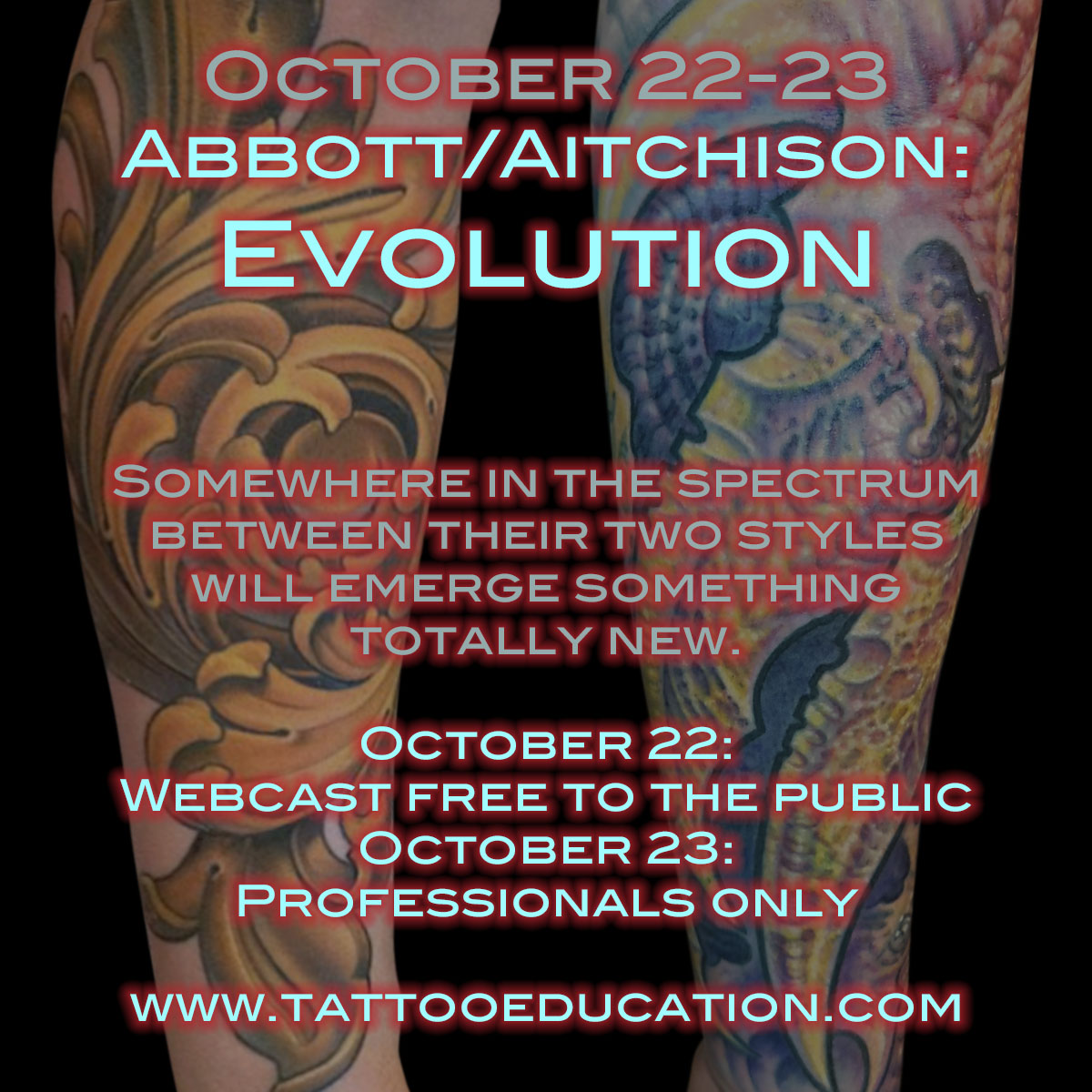 In addition to this, I am psyched to announce a collaborative seminar called Abbott/Aitchison: Evolution, which Russ and I will be conducting in October at Off The Map East in Massachusetts, on October 22 and 23, where you'll see biomech, ornamental and dimensional graphic elements fused into something totally new. The first session's webcast on the 22nd will be free to the public, where you'll be able to observe the unfolding of a major leg piece, and can submit your questions for the artists through the TattooNOW chat feature. The second day's session on the 23rd will be for professionals only and will get into the in-depth technical aspects of the project, from layout to machines to rendering techniques. Don't miss this unique learning opportunity! Tickets are available now at our online store.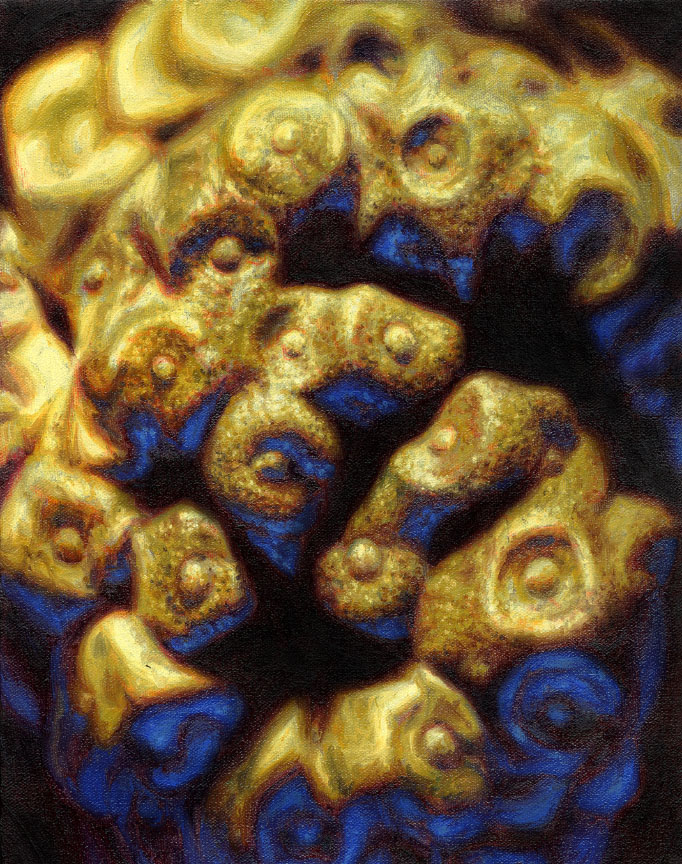 Finally, I wanted to mention the new auction that we just started with another painting from my book Organica, this time a more substantial piece. It's one of my hyperreal duotone organic macroscapes, big enough to have a strong presence in your shop or home art collection. The auction has just kicked off and has a few days left, check it out, or follow me on Instagram or Facebook for updates about this or other auctions.
---
Upcoming Tattoo Education Events
No Upcoming Events