Tattoo Books
click on a thumbnail to see more info
A growing collection of tattoo books. Educational titles include Guy Aitchison's Reinventing the Tattoo, Nick Baxter's The fundamentals of Realist Oil Painting, and Mike Devries' Lets be Realistic. Educational titles are only sold to professional tattoo artists. Books for the public include Organica, Moments of Epiphany, and Scratch Art. Nick Baxter's 2010 calendar, Rebuilding, is also found in this section.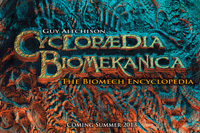 The Biomech Encyclopedia
By Guy Aitchison, featuring collaborative work by dozens of tattooists including: Nick Baxter, Dan Hazelton, Marco Velazquez, Aaron Cain, Mike Cole, Don McDonald, Jeff Croci, Ty McEwen, Adrian Dominic, Markus Lenhard, Leo Lavatori, Brad Bako, Chris Walkin, Evan Griffiths and many more!
Coming Soon!
Click here for more info