Click to join Guy Aitchison's Tattoo Education Mailing List!
Ian McKown: Light And Shadow
---
PRICE:$75.00

Ian McKown: Light And Shadow
120 pages color softcover $75

"How do I improve my tattooing?" It's a broad question with an unexpected answer: Work in other mediums outside tattooing. Try charcoal, pastels, paint. Explore other parts of what you can do as an artist, then bring these lessons back into your tattooing. You'll be surprised at how far a second medium can push your tattoo skills.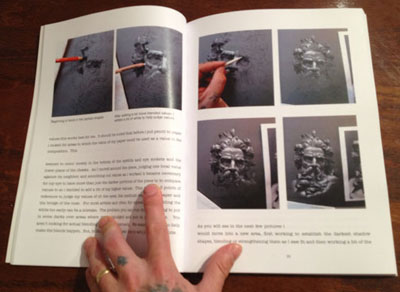 Ian McKown is a tattooist who specializes in black and gray, and is highly fluent in a number of other media which he demonstrates in this book in a clear step-by-step style. One of his key strengths is in how he breaks the dark and light structure of an image down to its essentials, making for art pieces that are both bold and subtle in a way that would translate very nicely onto skin. Light And Shadow is a great place to start for anyone wanting to explore a second medium, or for artists looking to give their work more strength, clarity and realism in all media. After a discussion of optimizing the use of dark and light, demonstrations are given first in charcoal and other dry mediums, then in ink and then oil paint, showing both drybrushing and opaque applications, two different but complimentary painting methods. It's a powerhouse of a book, loaded with useful information.