Click to join Guy Aitchison's Tattoo Education Mailing List!
Russ Abbott's Ornamental Archive
---
PRICE:$60.00

Russ Abbott's Ornamental Archive
Spiral bound hardcover 116 pages $60
Russ Abbott's Ornamental Archive is a reference book for tattoo artists unlike any other: these classic motifs have been reinterpreted by Russ in his distinctly tattooable style. The book is presented with both line art and a finished rendering for each design, with a range of subjects including frames, flourishes, medallions and other elements, all which could be mixed, matched and altered to fit the needs of all kinds of tattoo projects.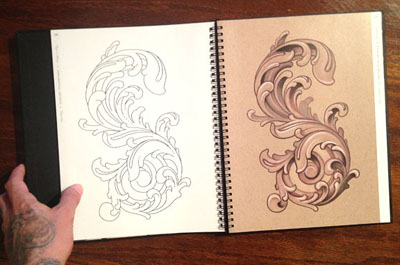 It's bound in a high quality embossed hardcover edition with a recessed spiral binding that allows the book to be opened all the way flat for purposes of scanning or tracing. As a bonus, the book ends with a section showing tattoos Russ has done using a variety of ornamental flourishes as accents to other subjects. It's a beautifully presented, thoroughly useful addition to your reference library.