About Tattoo Education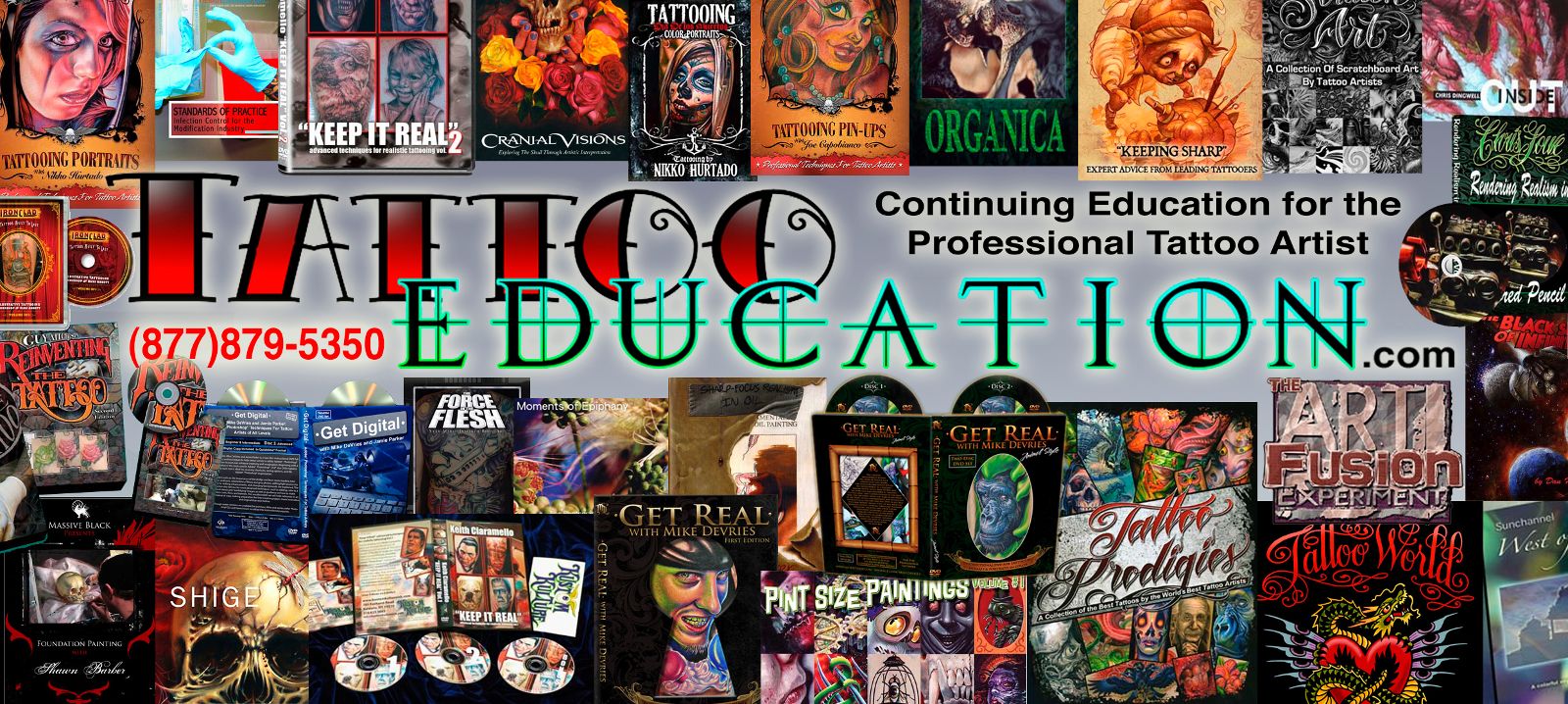 Information about tattoo design and technique has always been shrouded in a layer of secrecy and misconceptions. Until recently, the only way for an artist to learn anything new about the tattoo art form was to align themselves with a more experienced tattooist and then hope for the best; because of this, the evolution of the art form was severely restricted, forcing even dedicated seasoned professionals to rely on hearsay and rumor to discover anything new about tattooing.
This has changed dramatically in the past 2 decades; with the introduction of widespread magazine and TV coverage, the possibilities of what can be done on skin are being seen far and wide, and artists now have more resources than ever to learn new techniques and keep up with the public's demand for cutting edge art on their bodies. First, there were tattoo conventions, where artists could gather under one roof and watch each other work. This eventually led to some convention promoters encouraging artists to teach seminars, an idea that has grown into a full-fledged education subculture within the tattoo industry. Many artists who teach seminars are also offering books or DVDs about tattoo design and technique, enabling tattooing to evolve faster than ever before.
TattooEducation.com was conceived by veteran tattooist Guy Aitchison, who comes from a long tradition of teaching seminars and publishing educational books, as a way of bringing the best of this teaching material together in one website, providing a one-stop portal for any professional tattooist to see the latest in tattoo related material including not only straightforward educational content but also fine art books and other inspirational items. TattooEducation.com also features a page where artists and convention promoters can post any upcoming classes that they will be hosting, anywhere in the world.
This website is intended for professional tattoo artists only, or for apprentices who are learning in a supervised shop environment. None of the material here is meant to teach tattooing from scratch, but instead to teach how to draw or tattoo better and improve or broaden existing skills. If you are not a tattoo artist, there are some items here strictly about painting and other subjects that may be of interest to you; however, if you are wanting to learn the tattoo art form, you need to consult with your local professional studios before you start investing in books or equipment. For more information about getting into the business the right way, check out our FAQ page.
If you are an artist or publisher and are interested in seeing your art books or educational items carried here, you can contact our manager Jason at admin.tattooeducation@gmail.com. Items are added to the catalog depending on the usefulness of the material, the quality of the production and the reputation of the artist who produced it. You don't have to be well-known, but your material needs to be top of the line. Likewise, if you are interested in posting information about upcoming seminars, contact Jason at the above address. Our main phone number is for orders only. Thanks, and enjoy!