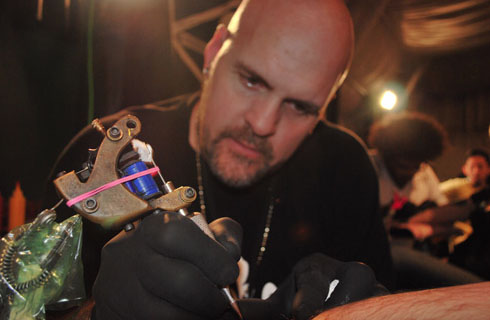 Tattoo Artist
Graphic Designer/Artist

From hip-hop to heavy artillery, and tattoos to typography, every element of BJ Betts' eclectic career is visible in his work. Active within the same Philly rap scene that spawned icons such as Cash Money, Jazzy Jeff, Steady B and a certain Fresh Prince, after taking on a military career that included service world-wide, BJ threw himself into illustration full-time, developing a hugely distinctive art style informed by his life experiences.

With tattooing as his medium, his style utilizes elements from gothic imagery and Japanese folklore with an emphasis on perfecting fonts and unique lettering, even writing four guides on the subject that became instant tattoo industry standards.

This knack for creating unique body art led to his role as proprietor of his own studio- Delaware's acclaimed Lucky Buddha. Awards and trade magazine spotlights followed, resulting in illustration work elsewhere, including involvement as one of the artists chosen for the Burton Snowboards 'Rides Of Passion' exhibition, and numerous skateboard exhibits.

Steadily generating a buzz away from the needle, BJ's portfolio continues to expand from flesh to paper, leather and fabric. Working as part of the acclaimed House 33 crew, he's redesigned the logo for Hikaru Iwanaga's cutting edge, Tokyo-based Bounty Hunter brand.

Additionally, design work for the street wear company Wellbred beckoned, as well as work on the Adidas Muhammad Ali campaign.

A lifelong sneaker devotee with an unhealthy habit that's led to a closet of more than 1000 pairs and counting, he collaborated with PUMA on three unique RS100 models based on his designs, as well as the artwork for 3 Easter versions of the iconic Clyde in 2006.

As a member of the Crooked Tongues crew, BJ's brush and pen strokes graced the deluxe packaging of the CT x New Balance 'Confederacy Of Villainy' collection, which included his own take on the 575 Trail shoe.

In 2007, a limited edition t-shirt design for Texas' Motive807, one of America's premiere sneaker boutiques sold out immediately, and further apparel creations came in the shape of specially designed fonts, and a cult-classic special camouflage pattern in association with C-Law and the ever-expanding Addict empire.

The opening of his own studio, Trademark Tattoo, in early 2008 in itself was a full-time gig, but the projects kept coming – two artists series takes for Adidas as part of a capsule collection that incorporated custom designed clothing too. Bringing his passions full circle, the opportunity to merge shoes, typography and hip-hop with commissioned work on the Adidas Def Jam collection arose, providing a unique look for Ghostface, Young Jeezy, Method Man and Redman.

With further sneaker and clothing collaborations set to drop, even if the project isn't based beneath the skin, BJ. applies the same intensity and dedication in order to create a permanent mark, whatever the medium.

You can find all five of his groundbreaking lettering books here at Tattoo Education.